EasyJet and Lufthansa make offers for parts of Alitalia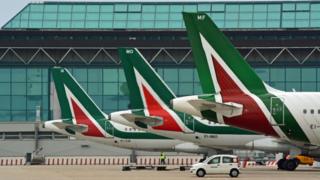 German airline Lufthansa and the UK's EasyJet have both submitted offers to buy parts of Italy's Alitalia airline.
Lufthansa said it hoped to establish a "New Alitalia", but was only interested in parts of the existing business.
EasyJet said it had submitted an expression of interest but also only wanted "certain assets of a restructured Alitalia".
On Friday, the Italian government postponed the deadline for making a final decision over the sale.
Instead of making that decision by 4 November, the sale will now be finalised by April 2018, it said. The government also announced a further €300m (£267m) in loans to the carrier.
Rome has already provided €600m of loans since May, but has now extended the repayment deadline to 30 September 2018, following the decision to delay completion of the sale. The cut-off for submitting bids was 17:00 GMT on Monday.
Neither Lufthansa nor EasyJet released details of their offers.
Lufthansa said in a statement it was interested in "parts of the global network traffic and European and domestic point-to-point business".
Shake-up
Italian newspaper Corriere della Sera, referring to anonymous sources, said on Monday that the Lufthansa bid was worth €500m, but was likely to be rejected as the authorities in Rome wished to sell the airline's assets as a complete package.
The newspaper reported Lufthansa was bidding for the planes, airport runway slots and air crew and was proposing to halve Alitalia's workforce of 12,000 employees as well as reducing its short- and medium-range flights.
Irish budget airline Ryanair expressed early interest in Alitalia, but two weeks ago said it was dropping the idea as it struggled to contain the fallout from a pilot shortage.
The European airline industry is going through a major shake-up, with the UK's Monarch and Germany's Air Berlin also collapsing this year.
Lufthansa agreed a €210m deal for parts of Air Berlin last week after EasyJet also held talks with the failed carrier.