Walmart clouds pay rise by closing Sam Club's stores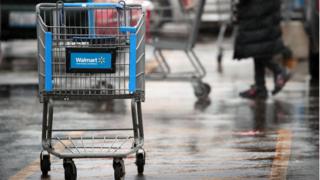 Walmart has revealed plans to shut dozens of its Sam's Club wholesale shops and lay-off thousands of workers.
The closures were revealed on the same day the world's biggest retailer said it would start paying its US staff at least $11 an hour and hand some of them a one-off cash bonus.
Walmart said the pay rise was due to the US tax overhaul which has cut the corporate rate from 35% to a flat 21%.
Hourly-paid employees will receive the higher wage from next month.
Walmart is the latest in a line of large US companies who have promised to pass on some of the benefits of the corporate tax cut to staff.
Others, including Wells Fargo and AT&T, have pledged wage rises or bonuses.
US Treasury Secretary Steven Mnuchin claimed that Walmart's pay deal was further proof that the controversial US tax bill is returning money to workers as the administration promised.
However, at a press conference on Thursday, Mr Mnuchin dismissed questions about the layoffs.
"Lots of things are going on in the economy," he said. "We appreciate what Walmart's doing."
Sam's Club, which is named after Walmart's founder Sam Walton, is closing 63 of its sites.
Like a cash-and-carry in the UK, Sam's Club is a membership-only retailer that sells bulk merchandise to small businesses and individual shoppers.
This fall, the company said it planned to narrow its focus, targeting families with incomes between $75,000 and $125,000.
Sam's Club said that following "a thorough review of our existing portfolio, we've decided to close a series of clubs and better align our locations with our strategy".
It said: "Closing clubs is never easy and we're committed to working with impacted members and associates through this transition."
The decision will affect thousands of workers, since each store typically employs more than 100 people.
In Illinois alone, where seven shops are slated to be closed, more than 1,000 people face layoffs, according to notices the company filed with the state.
Senate Democrats said the closures at Walmart show that lower corporate tax bills will primarily benefit "wealthy shareholders, leaving thousands of workers standing in the cold without jobs."
Pay deal
Doug McMillon, chief executive of Walmart, said that the retailer is still assessing the impact of the changes to corporation tax.
But he said: "Some guiding themes are clear and consistent with how we've been investing – lower prices for customers, better wages and training for associates and investments in the future of our company, including in technology.
"Tax reform gives us the opportunity to be more competitive globally and to accelerate plans for the US."
Some full and part-time workers at Walmart will receive a bonus of up to $1,000 based on their length of service.
Those with 20 years of service will get the full $1,000.
The bonus payments will cost the company, which has a market value of $295bn and made a full-year profit of $13.6bn, a total $400m.
The raise will increase the average hourly pay at Walmart for full-time employees from $13.85 to $14.50.
Hourly workers will be paid between $11 and $24.70 an hour.
Walmart raised its minimum wage to $9 an hour in 2015 and the following year offered a $1 rise to those who completed an internal training scheme.