Deal struck in university pensions row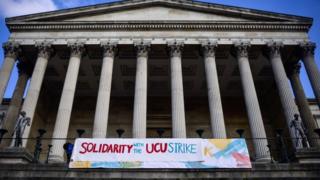 An agreement has been reached in the university strike – with union leaders and employers making a deal over threatened pension cuts.
If the terms are accepted at a meeting of union representatives on Tuesday, the strike will be suspended.
The agreement would mean a new, independent re-evaluation of the pension deficit and temporary arrangements to tackle the funding gap.
The strike has disrupted classes at more than 60 universities.
But there have been calls to reject the deal from some strikers – with an open letter to the University and College Union leaders calling the agreement "completely unacceptable".
Now in its fourth week, the strike has seen lectures cancelled and threats to end of year exams and assessments.
The universities minister Sam Gyimah had called for students to be given refunds on fees for lost teaching time.
Talks to end the dispute have been been held at the Acas conciliation service, and on Monday evening an agreement was announced by the UCU and Universities UK.
The proposed changes to pensions would be put on hold – and a temporary deal would tackle the deficit, with talks to re-open on long-term pension arrangements from 2020.
There would also be an independent re-evaluation of the size of the pension scheme's deficit.
Universities would be expected to re-schedule classes that have been disrupted by the strike.
UCU representatives will meet on Tuesday – and if the deal is accepted, the strike will be suspended from Wednesday.
But there have been calls on social media for university staff to reject the deal announced by their union's leadership.