'Stop pupils in Wales taking early GCSEs'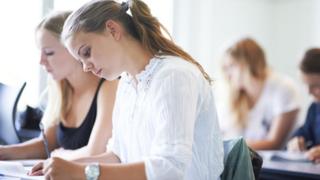 Large numbers of pupils taking GCSEs early could be putting their education at risk, says the exams regulator.
Nearly a fifth of entries in English language, Welsh and maths exams in the summer were from pupils from year 10.
Schools under pressure over performance was a factor to explain the growing practice, a 10-month review by Qualifications Wales found.
Education Secretary Kirsty Williams has now announced new rules so "interests of pupils are always put first".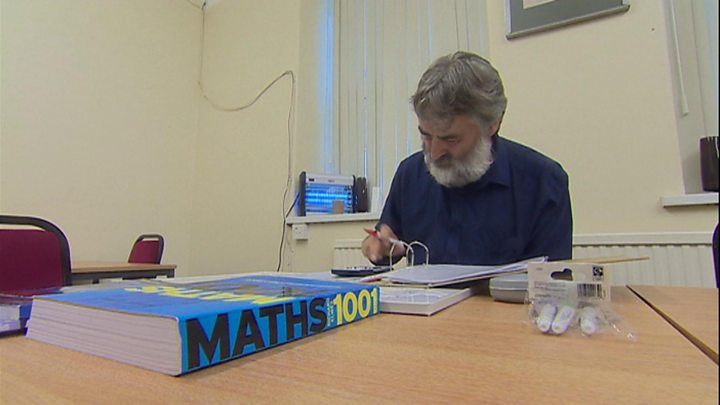 This follows recommended changes from Qualifications Wales, which said it believed "widespread use of early entry poses a significant risk to learners".
The changes will be:
How Welsh Government school performance measures are calculated, so that only the first grade awarded to a pupil counts towards performance measures. Currently, schools can count the best grade by a pupil from multiple sittings.
A lift on the restriction on English language and Welsh language GCSEs that only allows students who are re-sitting to be entered for exams in November.
The regulator believes this will mean early entries are more likely to be in the best interests of the pupil and will also limit time spent in preparing for repeat exams.
It has also estimated that schools spent more than £3.3m during the 2016-17 academic year on early entry.
DID EARLY ENTRY LEAD TO THE DECLINE IN WALES' GCSE RESULTS?
There were more than 43,000 early entries at GCSE last summer – half way into courses designed for two years.
Early entry was flagged as the main reason for the slide in Wales' overall GCSE results this summer to the lowest level for a decade looking at A* to C.
What does this report tell us about that? It is certainly not its main focus. But it brings together some relevant data.
Year 10 pupils (14 to 15 year olds) accounted for 19% of the summer 2017 entrants, up from 15% the previous year.
They tended to get lower grades overall.
But what this data cannot tell us is how big a factor that was in explaining the fall in GCSE results.
There were new exams too this time which could have played a part. But a clearer idea of the trend after next year and the year after's results should suggest whether the focus on early entry this summer disguised other factors in Wales' poorer GCSE performance.
Qualifications Wales admitted it was a complex issue and said it had taken a wide range of opinions, both for and against early entry.
"Most of those we spoke to indicated that the pressure placed on schools through accountability and performance measures was an important factor contributing to the growth of the practice," said chief executive Philip Blaker.
"We concluded that although early entry can be in the best interests of individual students in some cases, the continued large-scale use of the practice poses risks to students."
Some teachers told the regulator that pupils' learning matured, and missing out on an extra year could mean they missed reaching their full potential, especially in a subject like English.
Ms Williams agreed, saying GCSEs were designed to be sat after two years of teaching, not one.
Mr Blaker added: "We are not advocating a total ban on early entry because for some students it can sometimes be the right decision. For example, where an individual student has mastered their course and is ready to move on to a more challenging qualification.
"It may also be the right choice for students at risk of leaving school before reaching the end of Year 11."
Ms Williams said early entries encouraged a "teaching the test" approach at the cost of wider subject knowledge.
"I am concerned that pupils who had the potential to get an A*, A or a B at the end of a two-year course end up having to settle for a C," she said.
"Too often this is because they take their exam early and are not re-entered again. I want every child to reach their full potential in school. Early entry must only be for the minority of pupils who will benefit."
Analysis by Bethan Lewis, BBC Wales education correspondent
Getting better performance data and the best for individual pupils should not be incompatible.
But the report paints a picture where the pressure of hitting grade targets has the unintended consequence of schools taking decisions that can lead to "significant risk" for pupils.
Sitting exams early will still be the right option for many young people. And some teachers will see this as further tinkering at a time when they are having to adjust to several other reforms.
There are also those who believe strongly that having a practice run for all pupils is beneficial and this change may mean that is less likely to happen in future.