Election 2017: SNP manifesto calls for referendum 'at end of Brexit process'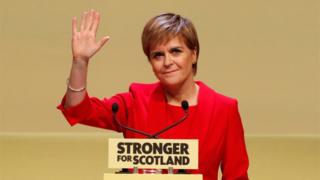 The SNP has launched its general election manifesto, which calls for an independence referendum "at the end of the Brexit process".
The UK government has already rejected Nicola Sturgeon's call for a vote to be held in the autumn of next year or spring of 2019.
But Ms Sturgeon said that would be "democratically unsustainable" if the SNP wins a majority of Scottish seats.
The manifesto also sets out plans to invest £118bn in UK public services.
And it pledges to increase the minimum wage to £10, and wants Scotland to have control over immigration and to remain in the EU single market after Brexit.
Prime Minister Theresa May has repeatedly said that "now is not the time" for a second referendum.
And the Conservative manifesto promises there will be no vote on independence until the Brexit process has "played out" and unless there is "public consent" for one to be held – although it does not specify what that means.
'Decided by us'
Speaking as she launched the manifesto in Perth, Ms Sturgeon said that a vote should be held "not now, but when the final terms of the deal are known".
The SNP leader added: "There is too much at stake for Brexit simply to be imposed on Scotland, no matter how damaging it turns out to be. Our future must be decided by us, not for us.
"Last year's Holyrood election delivered the democratic mandate for an independence referendum in the event of Brexit, and the recent vote of the Scottish Parliament underlined that mandate.
"If the SNP wins a majority of Scottish seats in this election, that will further reinforce that mandate. And in these circumstances, any continued Tory attempts to block Scotland having a choice – when the time is right and the options are clear – would be democratically unsustainable."
The manifesto includes:
A plan for additional NHS spending across the UK that would, by 2021/22, increase the NHS Scotland budget by up to an extra £1bn
Increase the minimum wage to over £10 per hour by the end of the parliament
Lift the freeze on benefits and abolish the two-child cap and the so-called Rape Clause
Protect the triple lock on pensions, protect the winter fuel allowance and support fair pensions for women
No increase in taxation on the low paid, in National Insurance or in VAT.
Support a UK-wide increase in the higher rate of taxation from 45p to 50p.
Ms Sturgeon said the manifesto had "fairness and opportunity at its heart" and was a manifesto for a "country that is welcoming and outward-looking".
She added: "Now, more than ever, it is vital to have strong SNP voices standing up for Scotland.
"In this election, let us make sure we strengthen Scotland's hand, not Theresa May's. Otherwise, much of what we cherish and value will be under threat."
Ms Sturgeon has sought to portray the election as a chance to protect Scotland from Conservative policies, arguing that Scottish votes for the SNP "can stop Theresa May having a free hand at Westminster to do whatever she wants".
She has also said she would be open to seeking a "progressive alliance" at Westminster to keep the Conservatives out of government in the event of a hung parliament.
But she has predicted that the Conservatives will win another majority in the election – and has said Labour leader Jeremy Corbyn is not a credible candidate to be prime minister.
Mr Corbyn has insisted he would not do a deal with the SNP to gain power at Westminster, pledging: "There will be no deals. There will be no alliance. We're fighting this election to win."
He has also firmly opposed a second referendum in recent weeks, claiming it is "unnecessary and unwanted", despite saying earlier this year he would be "fine" with one being held if the Scottish Parliament called for it.
'Education not separation'
However, in a radio interview on Monday, Mr Corbyn said he would "open discussions" with the Scottish government if he becomes prime minister – but said he would suggest they "think very carefully about it".
Meanwhile, the Scottish Conservatives are to publish fresh plans to improve standards in Scotland's schools as part of its demand for Ms Sturgeon to focus on "education, not separation".
Scottish Conservative leader Ruth Davidson said: "Nicola Sturgeon asked to be judged on education. Standards are down, there is a teacher shortage, we have a curriculum in crisis and our poorest children are being let down."
The Liberal Democrats have also attacked the SNP over its record in government in Scotland, arguing that the party has "taken its eye off the ball" on health and education while it pursues an independence referendum.
Scottish Lib Dem leader Willie Rennie said: "The SNP manifesto needs to cancel the divisive independence referendum so that the SNP can finally turn their attention full time to Scottish public services."