Severn tolls abolished by end of 2018, says Alun Cairns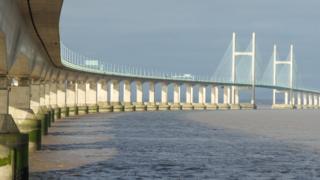 Tolls on the Severn bridges between Wales and England will be scrapped by the end of next year, the UK government has announced.
Welsh Secretary Alun Cairns said the decision would be a major boost to the local economy.
The fees paid on entry to Wales – currently from £6.70 to £20 a vehicle – have long been a source of contention with motorists and businesses.
Those using the bridge daily could save around £1,400 a year.
About 25 million journeys are made across the two bridges annually.
A study commissioned by the Welsh Government suggested the removal of tolls would boost the Welsh economy by £100m.
However another report, for UK ministers, predicted just halving the tolls would mean a 17% increase in traffic along the M4 and surrounding areas either side of the crossings.
But it did not indicate the impact on traffic by scrapping the tolls completely.
Mr Cairns told BBC Radio Wales: "There will be issues around congestion, and I have raised this personally with the first minister on more than one occasion.
"Of course, we are doing all we can to make the money available to the Welsh Government to build a motorway around Newport; that money has been available for more than three years and it has not been spent yet.
"But we understand they are obviously pressing ahead with their inquiry, and we want to see that road built as quickly as possible."
He said Bristol and south Wales would also be "bound together" by improved rail links.
But First Minister Carwyn Jones tweeted: "This is nothing but a desperate attempt by Alun Cairns to distract from yesterday's U-turn on electrification to Swansea."
Mr Cairns said the decision to abolish the tolls "sends a powerful message to businesses, commuters and tourists alike that the UK government is committed to strengthening the Welsh economy".
He said: "I want to ensure that visitors and investors know what Wales has to offer socially, culturally and economically.
"Most importantly, I want the world to know how accessible we are to business."
Phil Bell, executive director of Chepstow racecourse, said the scrapping of the tolls would boost its fortunes.
"We have millions of people who would potentially come to the racecourse from just the other side of the bridge," he told BBC Radio Wales.
"At the moment we have about nine percent of our customers come from the Bristol area and we have around 100,000 racegoers a year so we expect to see significant increases in that number.
"I am asking our board of directors to invest in the infrastructure at the racecourse and upgrade the facilities, so this decision will aid my case."
Labour Newport East MP Jessica Morden said it was a "relief that, after years of pressure, the Tory government has finally listened".
"For far too long, commuters and businesses in Newport East and beyond have had to absorb the extortionate toll charges."
However Llanelli Labour AM Lee Waters warned the ending of the tolls would in reality result in more misery for drivers because "everybody expects there will be more people using their cars".
"The Department for Transport's best guess – and nobody really knows – is the amount of traffic will go up somewhere between 12 and 20 percent," he told BBC Radio Wales.
"So that'll be a significant extra amount of traffic which will create congestion and delays."
The two crossings are currently owned and run by a private consortium but will revert to Highways England once the cost of building the second crossing, opened in 1996, is repaid.
Ministers will then scrap the tolls.
Abolishing the charges was included in every major party's manifesto in June's general election.
Prime Minister Theresa May said during the campaign that their removal would significantly reduce the cost of doing business between Wales and England and help support the Union.
The tolls have been in place since the first Severn bridge was opened in 1966.
The fee then was two shillings and sixpence.