Stormont talks failure 'consequence of DUP-Tory deal'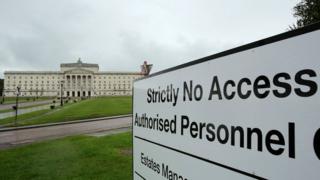 A failure to reach a power-sharing deal is a "monumental failure" by Theresa May and sets back decades of work, Sinn Féin has said.
The party's northern leader, Michelle O'Neill, said it was a "consequence of the DUP" supporting a minority Tory government.
DUP leader Arlene Foster said her party would "keep working over the summer".
It is understood the British and Irish governments will make a joint statement to park the talks.
Northern Ireland has been without a functioning devolved government since January, when the coalition led by the two biggest parties, the DUP and Sinn Féin collapsed, over a green energy scandal.
On Monday, Northern Ireland Secretary James Brokenshire said a deal to restore power sharing was still achievable.
Mrs Foster said the secretary of state was giving the "parties some space" to find an agreement that "everyone can buy into".
On Monday, Mr Brokenshire told MPs that legislation to enable a new executive could come as early as this week, but cautioned: "Time is short".
He warned that if no agreement was made he would be forced to pass a budget.
He said he would not call an assembly election immediately but would keep his options under review: He could have reintroduced direct rule from Westminster.
All the responses from both the DUP and Sinn Féin indicated that there were still major issues to resolve.
The most significant sticking points are disagreements over an Irish language act, same-sex marriage, a Bill of Rights and measures to deal with the legacy of the Troubles.
Mr Brokenshire updated MPs about possible next steps after Stormont parties missed last Thursday's statutory deadline to strike a power-sharing deal.
"I continue to believe that a deal remains achievable. And if agreement is reached, I will bring forward legislation to enable an executive to be formed, possibly as early as this week," he said.
"If no agreement is reached, legislation in Westminster may then be required to give authority for the expenditure of Northern Ireland departments through an Appropriations Bill," said Mr Brokenshire.
"If we do not see resolution in the coming days, it is my strong view that those resources would need to be made available very soon.
"Accordingly, it would be my intention to make a further indicative budget statement to provide further clarity to the Northern Ireland Civil Service "
On the issue of donations to political parties, Mr Brokenshire said he intends to "bring forward legislation that will provide for the publication of all donations and loans received by Northern Ireland parties on or after 1 July 2017".
In January, the late Martin McGuinness, of Sinn Féin, resigned in protest over the DUP's handling of an inquiry into the Renewable Heat Incentive scheme.
His party had demanded that DUP leader Arlene Foster step aside temporarily to allow an investigation into the scheme she set up, but Mrs Foster refused.
Over the past six months, and during two elections at Stormont and Westminster, the two parties have remained deadlocked over a number of issues.