Allotment 'blighted by disputes' before murder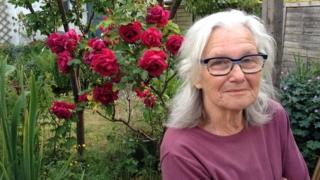 An allotment was blighted by disputes before a grandmother was found strangled on the site, a court heard.
Widow Lea Adri-Soejoko, 80, was allegedly beaten up by fellow plot-holder Rahim Mohammadi in February last year, and then throttled her with a lawnmower cable to stop her reporting him.
Her body was found in a locked shed on the Colindale allotments in north London.
Mr Mohammadi denies murder.
'Abusive incident'
Giving evidence, Mrs Adri-Soejoko's daughter Tessa said her mother would talk to her about problems on the allotment.
She said: "She saw it as part of her role that, with a large quantity of people, there was bound to be some disputes and it would not always be straightforward."
Following an allotment meeting in September 2016, Ms Adri-Soejoko found out from her daughter Amber that her mother had been involved in an incident involving Mr Mohammadi.
The court has heard that the defendant had become verbally abusive towards the pensioner and swore after she told him to shut up.
Prosecutor John Price QC asked: "What was her attitude to it with you?"
Ms Adri-Soejoko replied: "She seemed to brush me off. And, to clarify what that means, she was not her normal forthright self. She was subdued in her manner.
"She did not argue with me when I scolded her about the confrontation.
"I said to her that she could not speak to Rahim in that way, that he's not family."
She also told the jury about another dispute on the allotment which she found out about on February 24, just days before her mother's death, involving claims a woman threatened a man with a knife.
Previously friendly
Ms Adri-Soejoko told the court the allotment was her mother's "passion".
She said: "She loved the work at the allotment and she spent a lot of time almost running the place. She really enjoyed it."
The witness said she had met Mr Mohammadi several times at her mother's house.
Cross-examining, Tyrone Smith QC asked about her mother's relationship with the accused.
He said: "Before the AGM meeting in September 2016, were you aware they were on friendly terms?"
Ms Adri-Soejoko agreed.
The trial continues.