Kings Cross station closed amid Pro-Kurdish demo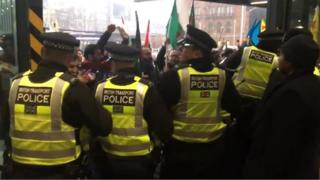 Pro-Kurdish demonstrators have caused delays and disruption at Kings Cross station in London.
The train station was temporarily closed by British Transport Police closed due to a large gathering outside the entrance.
An earlier protest caused serious disruption at Manchester's Piccadilly station.
Protesters are now believed to be blocking the road outside the station on Euston Road.
National Rail said the station has fully re-opened but trains to and from Kings Cross may still be delayed or revised as the service recovers.