Mother's despair at son's death in Winchester Prison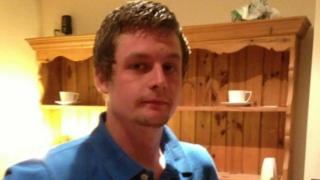 Sean Plumstead was three weeks away from his release from Winchester Prison, Hampshire, when his mother, Lisa Dance, got the call all parents dread.
A police officer told her that Sean, the eldest of her three children, was seriously ill in hospital.
"I said 'is he still alive?' and they went 'just about, you need to get there straight away'," recalls Lisa.
When she arrived at hospital her son was in intensive care; he'd tried to hang himself and had suffered a brain injury.
Sean never recovered and died three days later after it was agreed that his organs could be donated.
'Vulnerable men'
That was in September 2016. Since then Lisa, speaking on Radio 4's File on 4 programme, says she's been struggling to understand why her son took his own life.
The 27-year-old chef from Hayling Island had no recorded history of self-harm or mental illness, had coped well in prison after being given a 16-month sentence for assault and had a place to live and a job to go to when he was released.
He also had two young children who "he thought the world of", said Lisa.
However, it emerged that two days before Sean was found hanged in his cell, he'd asked a worker at the prison "what do you reckon is the best way to commit suicide?".
The inquest into Sean's death heard that the worker, employed in the stores department of the jail, sorting out laundry and other items, had classed the comment as "banter" and took it no further.
"There's a lot of vulnerable men in there, so why would you not follow that up?" said Lisa.
Training
The inquest was told that the worker was employed by an agency on behalf of Carillion, the private company then responsible for maintenance at 50 prisons, including Winchester, and had received no suicide or self-harm prevention training.
Had he been trained, Lisa believes he would have reported the "suicide" comment to other staff who would have taken appropriate safeguarding action.
"It could have prevented Sean's death," said Lisa. "They would have had someone go to talk to Sean…and they would have been keeping an eye on Sean."
The coroner, Grahame Short, sent Carillion and the Prison Service a warning notice, called a Regulation 28 Report to Prevent Future Deaths, saying there was a "gap" in self-harm and suicide prevention training.
He said the safety of prisoners could be compromised if the issue wasn't dealt with.
Michael Spurr, chief executive of the Prison Service, responded by saying that all such staff were required to undergo such training – but that hadn't been made clear to Carillion.
"I accept that the requirement for prisoner-facing staff to undertake suicide and self-harm prevention training was not specifically brought to the attention of Carillion when their contract began," he wrote in January 2018.
Series of problems
That omission, which the Ministry of Justice says is now being rectified, is one of a series of problems connected to prison maintenance contracts, which were outsourced to Carillion and Amey, an infrastructure specialist, in June 2015. Maintenance had previously been carried out by in-house teams of workers.
Under the terms of the five-year contracts, Carillion was to be paid an annual fee of £40m to carry out repairs, landscaping and waste disposal in 50 prisons. Amey's contract, in 60 jails, is worth £42m per year.
But both firms have been fined for failing to meet performance targets set out in their contracts: Carillion has had to repay £4m and Amey £2m.
And both providers have built up a massive backlog of maintenance jobs. In January, they had 59,720 outstanding tasks, 30,374 of which were classed as "reactive", meaning they were unplanned repairs.
One of the jails with the largest backlog, 2,000, is HMP Liverpool, where Amey has cut the number of full-time maintenance staff from 27 to 20 and tried to introduce new working practices.
Amey admits that conditions in Liverpool have been "unacceptable" but says it is now working more closely with prison management teams to "improve the situation".
There have also been serious concerns about conditions at London's Pentonville Prison, where maintenance was provided by Carillion.
In October 2016, Jamal Mahmoud, a 21-year-old prisoner, was stabbed to death after a dispute about access to a cell with a broken window, a portal for the smuggling of drugs, phones and knives.
A month later, two inmates on the same wing, James Whitlock and Matthew Baker, went on the run for several days after escaping through their cell window.
'Not good enough'
But Pentonville's Independent Monitoring Board (IMB), which repeatedly raised concerns about broken windows at the Victorian jail, says that, despite the incidents, only 180 out of 700 have been replaced.
The Ministry of Justice told the BBC that "urgent" maintenance improvements have been ordered at Pentonville, staff are now equipped with body-worn cameras and there is improved CCTV coverage.
Dame Anne Owers, chair of Independent Monitoring Boards across England and Wales, says the scale of the maintenance issues is of "a different order" compared to 2010, when she stepped down as chief inspector of prisons.
"It's very clear that the outcomes are not what was anticipated when those contracts were let. And what is happening is frankly not good enough," she says.
When the contracts were awarded, Chris Grayling, justice secretary at the time, said they would save £115m by 2020.
Ministers have now conceded they won't achieve the savings they anticipated because the contracts were "underfunded". In particular, they have pointed to an unexpected surge in vandalism: the cost of repairing items that have been deliberately damaged is borne by the Ministry of Justice, not the contractors.
Following its collapse in January, Carillion's contract has been taken over by a government-owned company, and the Prison Officers' Association and Labour believe the same should happen with Amey, whose contract expires in two years.
There's no indication that's about to happen – but in a sign that the government has been listening to the concerns, David Gauke, the new justice secretary, told the Justice Select Committee last week that he wanted a solution for prison maintenance that was effective, be it private or public.
"I have an entirely pragmatic view," he said. "I want something that works."
Lisa would no doubt agree with that.
File on 4: Britain's Squalid Prisons – Who's to Blame? is on BBC Radio 4 on Tuesday 13 March at 20:00 GMT and on iPlayer afterwards.