Sexual harassment at Welsh Assembly 'ignored', ex-AMs say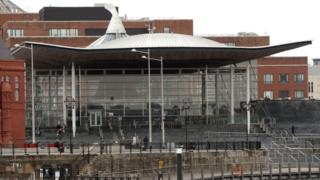 The sexual harassment of women "goes on all the time" at the Welsh assembly, former AMs have claimed.
The ex-politicians raised concerns for the first time about "a lack of procedures" and of colleagues "turning a blind eye to appalling behaviour".
The assembly said no formal sexual harassment allegations had been made against an AM.
Party leaders are to discuss the issue on Tuesday, after a number of claims against politicians in Westminster.
Speaking to BBC's Sunday Politics Wales programme, one former AM spoke of a researcher who claimed she had woken up to find a male former assembly member undressing her.
The ex-AM also said they had to step in to physically stop a colleague from harassing another woman researcher.
Another former AM said it was difficult to report inappropriate behaviour in the assembly because it is such a small organisation.
"When you see someone behaving inappropriately, you're likely to know that person," they said.
"We tolerated things we shouldn't and turned a blind eye… but there wasn't a clear procedure for dealing with problems."
Labour said it had written to constituency secretaries and women's officers requesting specific guidance about reporting complaints of sexual harassment.
Plaid Cymru said it had put new infrastructure in place to deal with complaints more quickly and was reviewing its internal protocols and considering how it could strengthen them.
The Conservatives said they were "actively working with colleagues across the party to ensure that all the appropriate safeguards are in place to protect staff from harassment in all its forms".
A Liberal Democrat spokesman said: "There are clear guidelines on how to make a complaint and in cases where the complainant doesn't wish to disclose their identity the pastoral care officer can act as the de facto complainant".
UKIP didn't respond to a request for a statement.