'Only one thing will work' with N Korea, says President Trump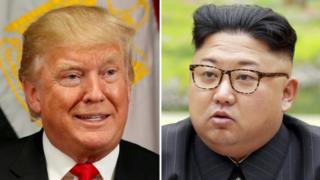 "Only one thing will work" in dealing with North Korea after years of talks with Pyongyang brought no results, US President Donald Trump has warned.
"Presidents and their administrations have been talking to North Korea for 25 years," he tweeted, adding that this "hasn't worked".
Mr Trump did not elaborate further.
The two nations have been engaged in heated rhetoric over North Korea's nuclear activities, with the US pressing for a halt of missile tests.
Pyongyang says it has recently successfully tested a miniaturised hydrogen bomb which could be loaded on to a long-range missile.
President Trump has previously warned that the US could destroy North Korea if necessary to protect America's national interests and defend its allies in the region.