Republicans oppose healthcare plans leaving party without majority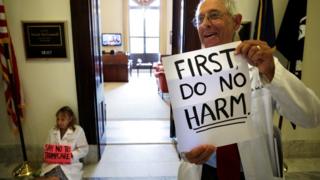 Two more Republican senators say they oppose their party's replacement for President Obama's health reforms, leaving leaders short of a majority.
Mike Lee and Jerry Moran both announced they could not support the bill in its current form.
Republicans hold 52 seats in the 100-member Senate, and with two other Republicans already against the bill they could not afford more desertions.
President Trump made repealing Obamacare a key campaign pledge.
The two senators simultaneously announced their opposition to the planned reforms.
While saying there were "serious problems" with Obamacare, Mr Moran said "we should not put our stamp of approval on bad policy".
The plan retains key Obamacare taxes on the wealthy, while allowing insurers to offer less coverage and imposing sharp cuts to healthcare for the poor.
Two other senators, Rand Paul and Susan Collins, had already announced their opposition to the bill.
Democrats have said they will not co-operate to repeal Obamacare, but that they can work in a bipartisan way to improve it.
Republican leaders and the White House will now have to decide whether to try to rewrite the plan, engage in a bipartisan effort to address the flaws recognised by both parties or abandon it altogether and focus on other key issues, such as tax reform.
Reacting to what is being seen as a significant setback, Mr Trump urged Republicans to repeal the "failing Obamacare now and work on a new healthcare plan" that would draw support from Democrats.
Congress has been delaying its summer holiday in a bid to overturn former President Barack Obama's 2010 legislation.