Xi-Trump call: China urges 'peaceful' North Korea solution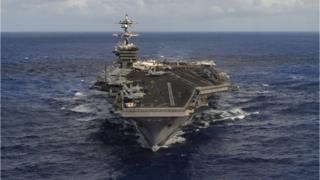 China's President has called for a "peaceful" resolution to the North Korea tensions, in a phone conversation with US President Donald Trump, Chinese state media said.
On Tuesday Mr Trump tweeted that the US was not afraid of acting alone on North Korea if China would not help.
Tensions have risen on the Korean peninsular after the dispatch of US warships to the region.
The two leaders discussed North Korea at a summit in Florida at the weekend.
During the call, Mr Xi said China "is committed to the target of denuclearisation on the peninsula, safeguarding peace and stability on the peninsula, and advocates resolving problems through peaceful means," Chinese state broadcaster CCTV said.